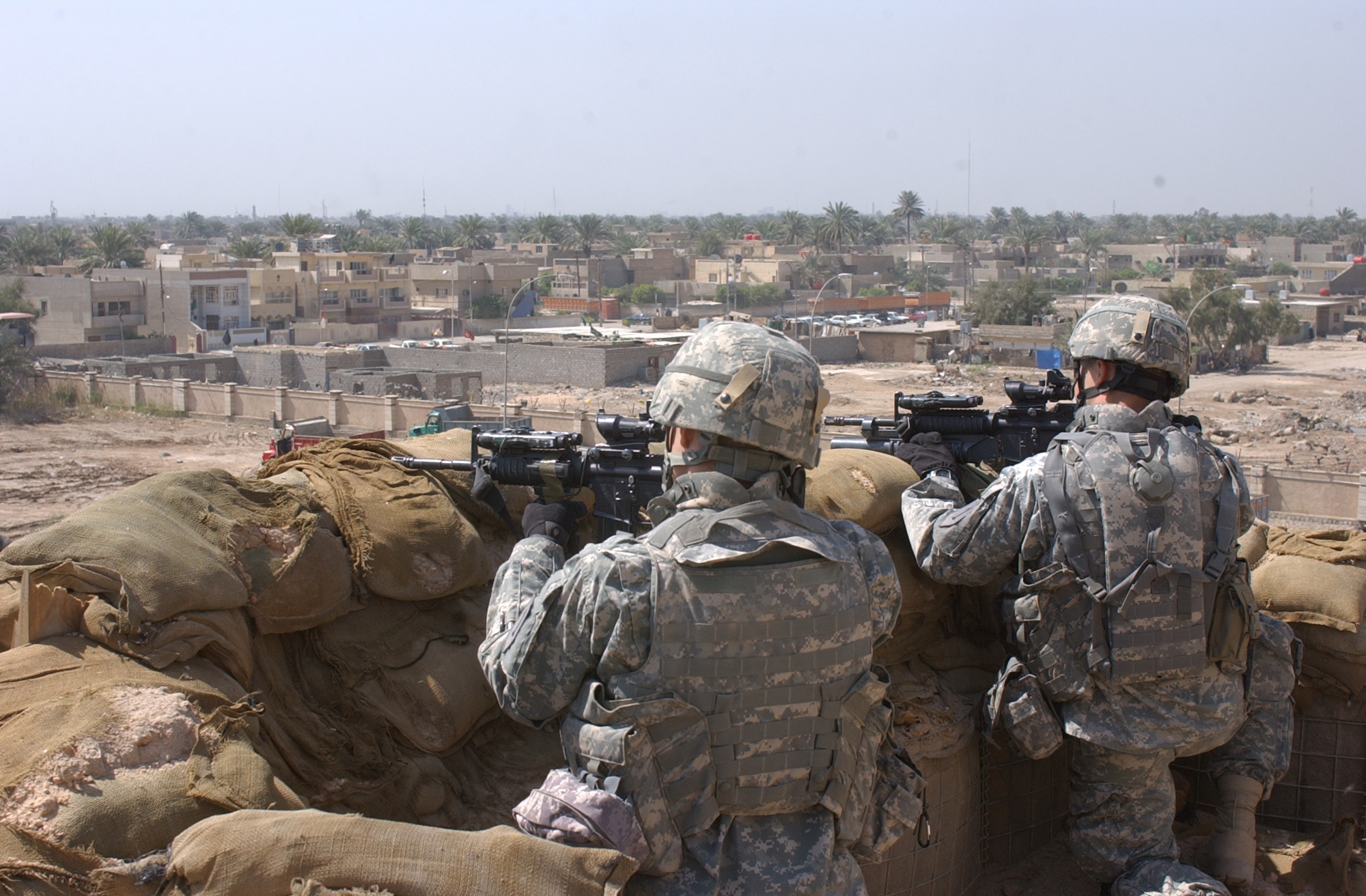 Report
from
IRIN
[This report does not necessarily reflect the views of the United Nations]
BAGHDAD, 9 October (IRIN) – Eighteen year-old Ali is swilling beer from a can of chilled Carlsberg on a bridge overlooking the Tigris river. Cars whizz by on the highway just five metres away, but Ali is savouring the taste of freedom with his friends.
Up and down the narrow sidewalk next to the highway are groups of teenage boys relaxing – some smoking, some drinking, some just talking. Under the former regime of Saddam Hussein, they were not allowed out on the bridge except to walk across, let alone hang out with their friends, drinking beer.
There are no teenage girls on the bridge, but they are a couple of blocks away enjoying ice creams outside a local sweet shop. After the heat of the day, evenings are starting to feel a little more "normal" in Baghdad, with families strolling the sidewalks to do their shopping and children riding their bikes.
Although US-led coalition troops continue to face almost daily bomb attacks, they recently moved the curfew back one hour to midnight from 23:00, citing "recent improvements in security".
But just because things may feel as if they are slowly getting back to normal, this does not mean that humanitarian groups are relaxing their security restrictions, according to local and international humanitarian aid workers. UN workers have an early evening curfew and it is rare, too, to see other international vehicles on the streets at night.
The curfew roll-back is more a psychological boost for residents, according to some aid workers. A group of teenagers and adults were playing soccer one recent night at around 23:45, as aid workers made their way home. "The group seemed to be really into their game, rather than worried about the time," Georgia Trismpioti, a project manager at Medecins du Monde-Greece, which is repairing hospitals in Baghdad, told IRIN.
Baghdad temperatures still soar into the high 30s during the day, making many sports activities pleasant only in the early morning and late evening.
"You probably feel better, because when you're somewhere with friends, you don't feel obliged to look at your watch," Trismpioti said. "And we hear things are getting better." On the other hand, however, a somewhat jarring sense of insecurity hung over the capital, she said, adding that an explosion had gone off nearby while she was on the road. "I was almost a witness to it, I was so close to it – and it was a real shock."
On Thursday another suicide car bomber hit a police station in northeast Baghdad, killing 10 people including two people in the car, police and the US military said, according to the AP.
According to the report, three policemen and five civilians were killed and 28 people were wounded.
Electricity cuts are happening less frequently, which also makes life feel more normal, according to Ghassan Elkahlout, the office director at Islamic Relief, a British NGO with offices in Baghdad. Residents have put up with an unreliable power supply – about three hours on, three hours off, around the clock, since even before the US-led invasion in March that toppled Saddam. "I think electricity is very important, so it feels like normal life is back," he told IRIN.
In general, Islamic Relief had been unaffected by the change in the curfew, Elkahlout said. His organisation's workers felt more secure than those of other aid agencies, he said, because they belonged to an Islamic organisation and were less likely to be targeted. "We're still doing the same things we did before 19 August, we have continued our work," Elkahlout said, 19 August having been the day a suicide bomb at the UN headquarters killed 23 people, including the special envoy to Iraq.
Unlike those of several other agencies, Islamic Relief workers continue to drive around in vehicles marked as belonging to their agency. Its logo is a mosque with the name of the agency printed below it. Workers are handling school repairs, a water and sanitation project, and food distribution during Ramadan, the Islamic holy month that starts this year at the end of October.
However, at the Iraq Red Crescent Society, workers were found to be exercising caution, unwilling to give their names. "In the past, everyone could move safely, even ladies. You could move freely even after midnight," said one man there. "The curfew does not matter, since the general situation is not secure, even for us, as citizens of this country."
The US military imposed the curfew on Baghdad after the fall of the Saddam regime in April. Curfew violators face detention, and if they approach military checkpoints after the deadline, risk being fired on by nervous soldiers.
The curfew change had nothing to do with Ramadan, a time when Muslims fast during the day, but eat after sunset until the onset of dawn, said a press statement put out to explain the change. The curfew now ends at 04:00 local time; previously it ended at 06:00. "Recent improvements in security and the reduction of crime in the city of Baghdad have prompted military officials to scale back the curfew in effect throughout the city since the fall of the prior regime," the statement said.