Συνέντευξη στο World Focus  12/11/2009
Georgia Trismpioti is the director of Amnesty International's Greek division. Worldfocus producer Megan Thompson interviewed her about the situation of gays in Greece.
Watch our signature video from Greece: Ancient Greek values clash with modern treatment of gays.
Worldfocus: What is the climate like for gays in Greece?
Georgia Trismpioti: It is a fact that discrimination against LGBT (lesbian, gay, bisexuals, and transgender) people is worse in Europe's Mediterranean countries. Discrimination against LGBT people is widespread in Greece.
A recent opinion survey released by the European Commission reveals that around one in six people in Europe claim to have personally experienced discrimination on the basis of race, religion, age, disability or sexual orientation in the past year.
Forty-seven percent of Europeans believe that discrimination against LGBT is widespread. The figure rises to 66 percent for Cyprus, 64 percent for Greece and 61 percent for both Italy and France.
Those figures reflect a policy towards the LGBT community in Greece. For instance homosexuals are not allowed to donate blood or become organ, tissue or bone marrow donors in Greece. I should add that it is not necessarily representative of Greece , it is an international practice. Gay men and women are barred from serving in the Greek military forces.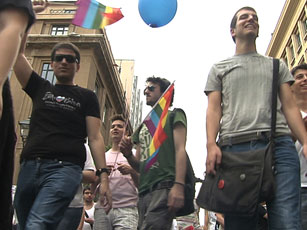 Worldfocus: What kind of legal protections exist for gay people in Greece?
Georgia Trismpioti: Gay people are first of all citizens of this country and are protected under the national law as everybody else but there is a significant lack of specific legal protection for gay people in Greece.
The Greek section of Amnesty International fights for:
The amendment of the anti-discrimination law 927/1979 which should be expanded to other forms of discrimination generated by the sexual orientation and gender identity of an individual
The annulment of article 347 of penal code which penalizes male prostitution (which is not the case for the female prostitution) and introduce higher ages of consent for same sex activity compared to opposite sex activity
The provision of asylum to asylum seekers persecuted in their countries of origin because of their sexual orientation
The decriminalization of homosexuality where such legislation remains and review of all legislation which could result in the discrimination, prosecution, and punishment of people solely for their sexual orientation or gender identity
The equal civil recognition of same sex relationships
Worldfocus: How does Greece compare to the rest of the EU on the issue of gay rights and gay marriage?
Georgia Trismpioti: A Eurobarometer survey published in December 2006 showed that 16 percent of Greeks surveyed support same-sex marriage and 11 percent recognize same-sex couple's right to adopt. These figures are considerably below the 25-member of the European Union average of 44 percent and 33 percent respectively and place Greece in the lowest ranks of the European Union.
A Eurobarometer survey published in January 2007 ("Discrimination in the European Union"), showed that 77 percent of Greeks believe that being gay or lesbian in their country 'tends to be a disadvantage', while the European Union (EU25) average was 55 percent.
Further, 68 percent of Greeks agree that discrimination on the basis of sexual orientation is 'widespread' in Greece (EU25: 50 percent), and 37 percent that it is more widespread than 5 years before (EU25: 31 percent). Finally, 84 percent of Greeks also reported not having any gay or lesbian friends or acquaintances (EU25: 65 percent).
Worldfocus: In October, the left-of-center PASOK party won control of the Greek parliament, which had been ruled by the more conservative New Democracy party. Do you expect PASOK to take up the issue of gay rights?
Georgia Trismpioti: PASOK seems to place human rights issues high on its agenda but it would be premature to make any conclusions before the end at least of the first 100 days of the Papandreou government.
– Megan Thompson